Ingrid Uppelschoten Snelderwaard
Chief Diversity, Equity & Inclusion Officer, A. P. Moller-Maersk
First Commercial, second Operations and now DE&I and HR business partnering. I have 20+ years of experience in commercial, general and operational management in many locations in the world and as per October 2022, I am the Chief Diversity, Equity and Inclusion Officer and HR Business partner to the People Function at Maersk.
My openness, direct communication (call it Dutch), honesty and trust all support high performance and engagement. This has strengthened not only my leadership but also my understanding of dealing with a wide variety of cultures and different markets. I have progressively held positions in Netherlands, Namibia, Tanzania, Denmark, Poland and latterly back in Denmark again.
Asif Sadiq
Chief Diversity, Equity and Inclusion Officer for Warner Bros. Discovery
Asif is the Chief Diversity, Equity and Inclusion Officer for Warner Bros. Discovery, he was previously the Global Head of Diversity & Inclusion at adidas and has a long and rich career in the diversity and inclusion space with senior executive roles at The Telegraph Media Group, EY Financial Services and the City of London Police. He is a board member for the American Institute of Certified Public Accountants (AICPA) and a member of the board of advisors for Hedley May.
He is winner of numerous awards including the highly commended Head of Diversity Award at the European Diversity Awards and was honoured with an MBE in 2017 by the Queen and granted the freedom of the City of London in 2016.
Marie Bjerre
Minister for Digitalisation and Gender Equality
Marie Bjerre was appointed as the Minister for Digital Government and Gender Equality on 15 December 2022. She is a member of Venstre (the Liberal Party) and has been a member of The Danish Parliament since 2019.
Karin Cruz Forsstrøm
Moderator, Journalist and TV Presenter
Karin Cruz Forsstrøm is the host and moderator of the Womenomics Nordic DE&I Conference 2023. Karin worked for the national channel TV2 Danmark for 20 years, and she is well known for her role as a news-anchor and presenter in different documentaries. She doesn't just work in front of the camera, but behind it as well, as a researcher.
Her background is South American, but she was born in Denmark. As a role model she is passionate about diversity and strong women.
Stephen Bush
Associate Editor at Financial Times. Special Guest of Headspring
Stephen Bush is an associate editor and columnist at the Financial Times. He writes a daily newsletter, Inside Politics, charting the course of politics and policy in the United Kingdom, and a wide-ranging weekly column.
Merete Wedell-Wedellsborg
Executive Advisor, Professor, and Author
Merete Wedell-Wedellsborg's impressive background includes both a Ph.D. in Business Economics and a MA in Psychology. She is Executive Advisor, IMD Business School Professor of Leadership, and Author of 'Battle Mind: How to Navigate in Chaos and Perform Under Pressure' and numerous articles for Harvard Business Review on leading through the pandemic.
"For a leader, a crisis can be both the finest hour and the darkest day."
Casper Bengtson
Managing Director of Universal Music Denmark
Casper Bengtson has been the Managing Director of Universal Music Denmark, Denmark's and the world's leading music company, for more than 15 years.
Throughout his career in the music industry, he has been dedicated to bringing culture to life through the music of talented artists. In recent years, he has taken an
even more active role in fostering a more diverse and inclusive music industry, frequently participating in debates and speaking engagements
to raise awareness on this issue.
In addition to his role as Director of Universal Music Denmark, he also serves as a board member of IFPI, the music industry organization.
Laura Uggla
Chair of the Board at ARoS Aarhus Kunstmuseum
Laura Hay Uggla is currently Chair of the Board at ARoS, one of the largest art museums in Northern Europe and the most frequented art museum in Scandinavia. Her previous positions include Councillor for Social Services and Employment and Councillor for Construction and the Environment in the City of Aarhus. She holds boardroom positions in a number of businesses and cultural institutions, including the Port of Grenaa, the socio-economic project Huset Venture, Aarhus, the cultural venue Godsbanen, Aarhus, and Aalborg Zoo.
Daniela Bohlinger
Head of Sustainability Design and Innovations, BMW Group
For Daniela Bohlinger, preparing the way for a holistic sustainable thinking including circular economy is of central importance: being able to tackle climate change, needs a significantly rethinking of the development and design process-which leads into a transformation of the entire company.
Daniela was one of the masterminds behind the BMW Group's in-house think tank "Project i", which resulted in the BMW i3. As Head of Sustainability Design BMW Group, she now contributes to the strategic development of the company with regard to sustainability, works as an adjunct professor at the Umeå Institute of Design (UID).
As a Fulbright scholarship holder, she completed a master's degree at the renowned Pratt Institute (NY) and holds degrees from the UIDH Helsinki and the Schwäbisch Gmünd University of Applied Sciences.
Saba Lykke Oehlenschlæger
Singer and actress
Saba Lykke Oehlenschlæger is a singer and actress – currently in the musical HAIR.
She is Ambassador of an association focusing on depression (Depressionsforeningen) and Plan International Denmark (PlanBørnefonden). Part of the ambassadorship involves doing keynote speeches, especially on women's rights.
Saba has also featured in a documentary on DR (Danish Broadcasting Corporation) with her twin sister about identity, adoption, and sibling relationships.
Previously, Saba has worked as a documentary assistant in the organisation The WHY and as freelance copy writer.
Tine Arentsen Willumsen
Founder and CEO at Above & Beyond Group
Tine Arentsen Willumsen is the Founder of Above & Beyond Group, the creator of The Diversity Council, as well as the mind behind The Womenomics Nordic DE&I Conference. The Group is also behind Above & Beyond Academy which provides world-class leadership programs, for large corporates. Tine is also the author or the business book, 'Womenomics: Gender Diversity and the Rise of Female-Driven Growth Potential'.
Prior to establishing Above & Beyond, she had an international career abroad for 23 years with, among others, the diamond conglomerate De Beers and Bang & Olufsen where she was Marketing Director and heading 30 markets internationally.
Tine is also the Founder and Chair of Sisterhood Foundation, a charity which supports girls and women in India with scholarships, training and micro-financing.
Tine holds a Bachelor from Singapore and an MBA from ESSEC Business School in Paris.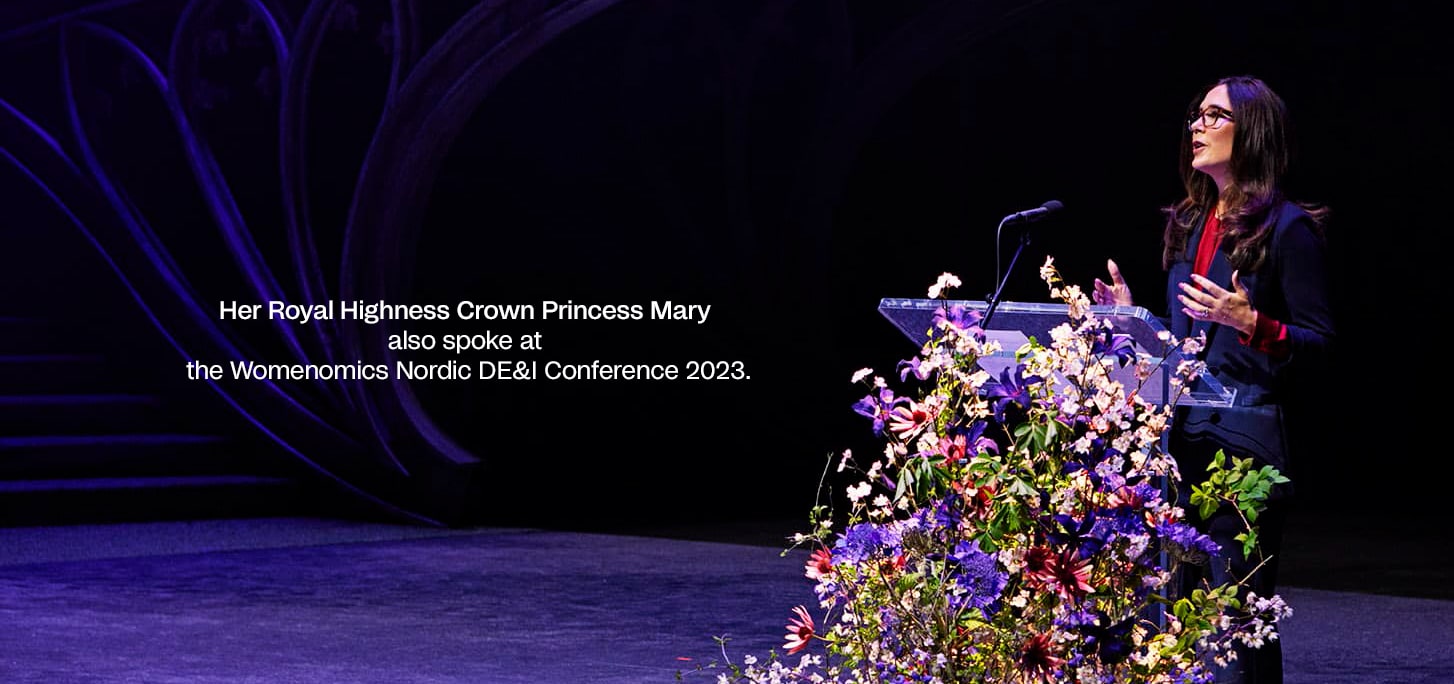 Womenomics Award Recipients 2023